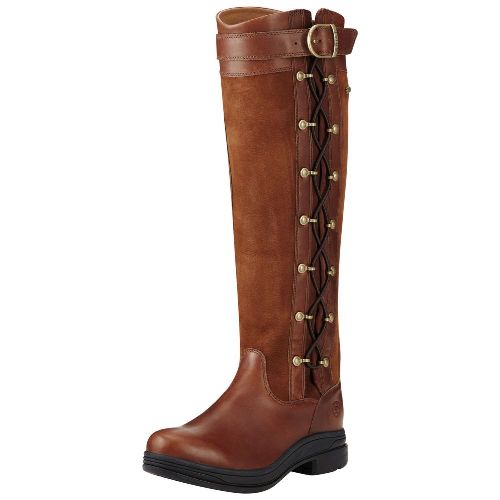 |
Aug
08
2017
Ariat Grasmere Pro GTX Boots Review
We first set our eyes on the Ariat Grasmere Pro GTX Boots at the BETA trade show in January on Ariat's impressive stand. They go all out every year to have a brilliant stand for their stockists to view the new styles. Whilst we were waiting for our coffees we immeidately set our eyes on these new Grasmere Pro and also the Coniston Pro. Ariat have really upped their game in terms of country/equestrian boots over the past 12 months and seeing these, we knew straight away they had done it again.
The orginal Grasmere are a boot that most of you will know already. A big portion of our Ariat customers have owned a pair at some point over the past ten years and been really happy with them. They have always been the go to cross over boots which basically do everything – riding boot, country boot, general yard work, shows, dog walking, shopping, pub… you get the point! We've seen plenty that look like they should have seen the bin years ago but most people are reluctant to throw them away because they're so comfy.
So why have Ariat have now decided to release an upgrade? Well firstly, it's a seperate product, they will still be offering the standard Grasmere boots which means there will be two choices at two different price points. Talking of price, the RRP is £359.99. This means around a £90 premium on the standard Grasmeres. Secondly, the market has been asking for a Gore-Tex lined country/riding boot like this for a while now. People like the technical side of other premium Gore-Tex lined country boots (I think we can all guess which boots we're talking about here) but are frustrated by the fact you can't ride in them. Or at least shouldn't if you want them to last.
These new Grasmere Pro GTX have the desirable Gore-Tex membrane which is extremely breathable and fully waterproof, but also have Ariat's stirrup friendly Duratread riding outsole which means they are made to ride in. It's an improved version of the outsole that's used in the standard Grasmere with new traction zones which are rider tested areas of the sole that have been reinforced for maximum wear resistance. The ATS Pro footbed is excellent and offers all day comfort and stability and is at the very top of the pile in terms of under-foot technology.
The look of the Pro is something which has been improved a lot. They still feature the classic side lace system which everybody recognises as one of the classic Ariat signatures, but these instead feature a leather buckle closure at the top instead of the original velcro strap which will certainly improve the look both because the leather strap looks nicer anyway but also because it won't end up full of hay and other bits and bobs the velcro usually picks up around the yard.
They also keep the leather inside/suede outside leg combo which again, the classic Grasmere's are known for. The branding on the Pro is very nice and subtle with a small stamped Ariat logo on the outside of the heel, Ariat font etched onto the buckle and a small etched Gore-Tex badge just under the buckle at the side of the laces. There's a lovely, soft plaid lining inside which will no doubt offer a slight improvement in comfort on the leg.
Another difference with these and the original Grasmere is they will be available in both briar (Brown) and black. We always get asked for black Grasmere boots when in fact the black version people have seen are actually Ariat Glaciers. So the choice of two colours will be a welcome change. We're finding an increasing demand for black country/equestrian boots recently with lots of people wanting to wear them for more day to day activities such as walking/shopping/pub where black can go with certain outfits and legwear better than brown.
Like the new Coniston Pro GTX, these get noticeably more attention in store than the regular Grasmere however unlike with the Coniston, we're still finding lots of people are buying another pair of the original Grasmeres rather than upgrade to these new ones. We think this is down to many people having tried and tested the orginals over the years and finding them absolutely bomb proof so not feeling the need to spend the extra money (if it's not broke, don't fix it!).
So far, customers that have bought these boots locally have said they much prefer them to the originals. If you're in the market for a premium country and riding boot and looking for the very latest in technology and comfort, it's a tough choice between these and the Coniston Pro GTX (you can read our review of these here). Like we said with those, it comes down to personal preference.