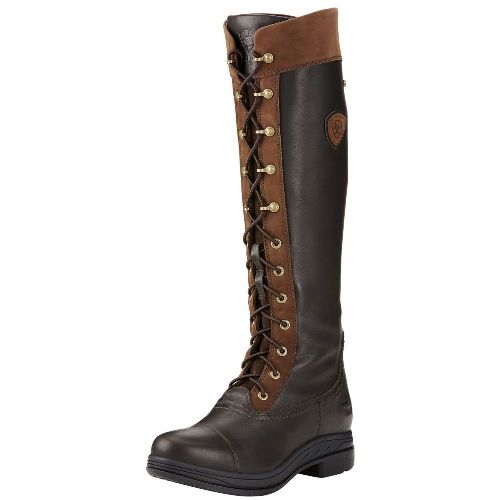 |
Aug
08
2017
Ariat Coniston Pro GTX Boots Review
Here's our Ariat Coniston Pro GTX Boots Review, based upon our own use and customer feedback.
After years of success with the Coniston boots, Ariat have released an upgraded option to run alongside the orginals. Almost all of the boot has been upgraded in some way so read on to find out all about them…
Looks wise, the Coniston Pro GTX are a brand new design which will take the original Coniston full lace system, which allows calf adjustment as well as ease of getting on by way of the YKK back zipper, and improve it with suede paneling around the laces and top, more sturdy lacing system, and discreet Ariat contrast branding on the outside of the leg. The strap on the original doesn't make it to the pro and there's also an added piece of leather coming up over the front of the laces. Looks wise, they are a really classy improvement on an already lovely design.
The original Coniston used to get lots of comments and then last year when the Bewick GTX came out, all the attention switched to them. Now these are getting equal attention with the Berwick. Both look extremely elegant with the front lace system and also have beautiful styling and quality leather.
The foot of the boot looks close to the Glacier in design, with a nice stitched toe cap detail and the sole system is upgraded to include 'traction zones' which are reinforced areas of maximum wear resistance. It's still a stirrup friendly sole design which means although they're a country/equestrian boots, they will still be an excellent choice for riding.
They will continue to use 200g Thinsulate insulation to keep you warm in Winter and breath in Summer however the big news is they will now be upgraded to a Gore-Tex waterproof lining; the top of the tree in terms of waterproof membranes. Another excellent upgrade is the ATS Pro footbed, an upgraded version of Ariat's ATS system which is already amazingly comfy, especially noticeable when wearing them for long periods of time. So for all of you frustrated by not being able to ride in your high end Gore-Tex 'country' boots, these boots are the answer.
After spending time wearing these boots, the thing which is most noticeable is the comfort. The ATS Pro footbed really is amazing. They can be worn for hours on end and still feel like you've just put them on. The lace offers a really snug fit around the calf and ankle and they just seem to fit like a glove. Feedback so far from customers who've purchased them has been amaziing, everybody we've spoken to is extremely happy – which is great as at this price, people can be very picky and critical (and rightly so!).
Other points worth mentioning… the zip feels really sturdy and works well. It can be a little harder to use at the ankle as there is a leather gusset behind it but it's not a problem. They drop around an inch from their original height so they are actually noticeably lower than the Berwick and are much less likely to dig in behind the knee due to the shape at the top. They feel nice and safe in the stirrup with a good grip when riding but still easy enough to slip out quickly.
All in all, the Coniston Pro GTX are an amazing all round, country/equestrian boot. If you're looking for a premium country boot you can also ride in, it would be a toss up between these and the new Grasmere Pro GTX (you can read our review of these here). It gets down to personal taste and preference. Both have totally different looks and lacing systems. We'd advise coming in store to try both to see which you prefer but if this isn't possible, hopefully these reviews will help you make your mind up!