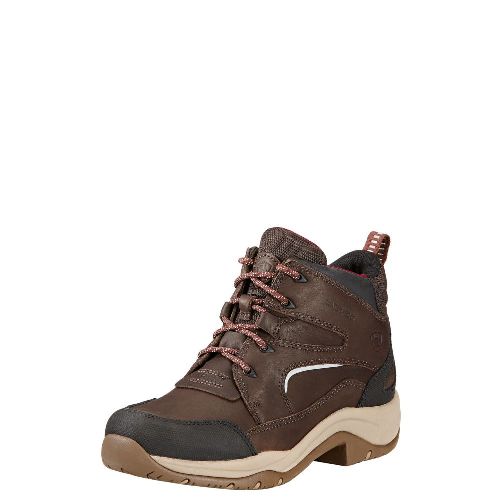 |
Aug
07
2017
Ariat Telluride II H2O Boots Review
The new Telluride II H2O boots give you everything you need; waterproof, breathable and all day comfort. It features a Duratread outsole which ensures a lasting performance, protection and flexibility. By using this exclusive rubber compound it combines maximum wear-resistance with comfort and flexibility, outlasting traditional rubber but it not stiff and uncomfortable. The material is also highly resistant to barnyard acids, oils and slips so is perfect for working on the yard.
Following in the tradition of Ariat's Terrain styles and the original Telluride boots, the new version also features Ariat's ATS Technology. Ariat's exclusive Advanced Torque Stability supports and cushions the foot as you move which ensures good posture and reduces fatigue so that you can work or play all day. The moisture-wicking footbed provides cool, dry comfort as well as a gel-cushioned footbed with a heel stabiliser. It has a lightweight feel with an ergonomic composite forked shank in order to enhance stability. Ariat have updated the styling and added two new colours which we thought were much needed – there's nothing wrong with the original Telluride in Bittersweet brown colour but they've been around a while now and it's great to see them being freshened up. There's extra lace as well as a slightly extended toe protection area and a few style tweeks, they've also changed the footbed to be a little more comfortable however it's very similar to the original. It's still the Ariat riding outsole which means you can jump straight on the horse and feel secure riding them and don't have to change boots. Having owned the original Tellurides and been extremely happy with them, I was really happy that Ariat haven't changed them too much. Just a little update to the looks and a little bit softer under foot is great as the originals were so good.
Ariat's Waterproof Pro™ offers protection from rain, snow and wet conditions so they can be worn all year round. The use of a premium leather ensures superior exterior protection and the impermeable waterproof/breathable barrier is built in for long lasting protection.
The boot sits just above the ankle with a lace up front so it increases ankle support as well as being easily adjustable. These boots can be complimented perfectly by the Telluride half chaps and are often a favourite amongst Endurance Riders and those that enjoy Long Distance Rides. Ariat boots tend to come up around half a size bigger than your standard shoe size so if you are a size 6 we would recommend you get a 5.5, but we can always change them if they aren't the right fit.
If you are looking for an 'all-rounder' then the Telluride H20 is the boot for you. From Riding to Walking, these boots will adapt to any situation. They are the ideal choice for avid riders and horse enthusiasts looking for stability and comfort.