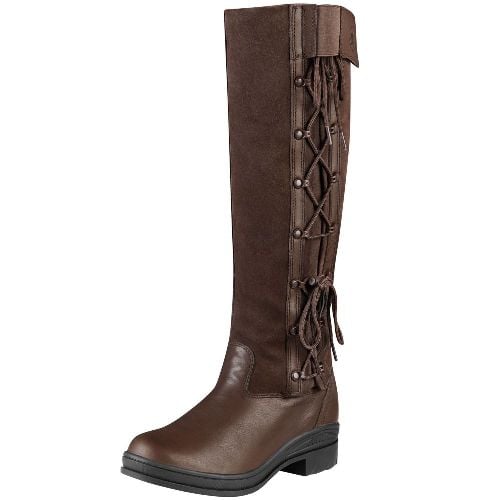 |
Aug
07
2017
Ariat Grasmere H20 Boots Review
Meet one of Ariat's most perfected riding and country boots – The Ariat Grasmere H2O. Stacked with rider-friendly features, this stylish yet practical boot is designed in leather and suede. They are an extremely hard wearing boot that offer comfort as well as keeping your feet nice and toasty in harsh weather. The Grasmere boot are worn by riders across the globe with the use of ATS technology offering stability and comfort from Ariat's Innovative Mid-Level Technology. Ariat's Advanced Torque Stability (ATS) Technology supports and cushions the foot as you move, promoting good posture and reducing fatigue so that you van work or play all day.
Moisture-wicking footbed provides a cool and dry feel with a heel stabiliser that delivers support, rebound and stability as well as being lightweight with ergonomic composite forked shank that enhances stability. This means that the boot doesn't conduct heat, cold or electricity and offers superior support ensuring that you maintain proper body alignment, reducing skeletal and muscular fatigue or injury. The footbed is also anti-bacterial reducing the growth of odour and a low friction surface which reduces heat build-up and blistering.
In addition the boot is barnyard acid and slip resistant with a non-marking Duratread outsole that is four times longer than standard rubber soles, making it perfect for riders.
The Ariat Grasmere boots are a little taller than the Windermere so if you're upgrading from those, it's worth noting the extra height. It's not usually a problem but we have had people who find they dig in a little behind the knee. They do drop a few cm once they are worn in which normally makes them a good height for riding. We can provide an Ariat heel lift for free if they are a little high, this will lift you foot and leg up by around 1cm which can often help until they have dropped.
The side lace system is great for a variety of calf sizes (they're also available in full calf – please ask if you would like these). They come with two sets of laces, the standard set up involves two sets of laces per boot with draw string style fasteners both at the top and half way down. This allows for two different levels of tightening on the leg. The second set up would be to use the full length lace which is slightly easier because you only need to tighten at one section and is slightly quicker than tying two laces although doesn't give you the same customisable tightening as the first option.
Ariat boots tend to come up around half a size bigger than your standard shoe size so if you are a size 6 we would recommend you get a 5.5, but we can always change them if they aren't the right fit. You may also want to consider the extent of how warm the Thinsulated insulation can be as on very hot days they can make your feet very warm. If you come into the shop and try on the shoe you'll be able to understand the full technical specification for yourself. Also included with the Ariat Grasmere is a long boot horn and Ariat Boot Trees, both of which we recommend using regularly to prolong the life of the boots.
If you're looking for a premium country and equestrian boot, these are the perfect addition to your wardrobe. It's not hard to see why this boot is a firm favourite with so many people.