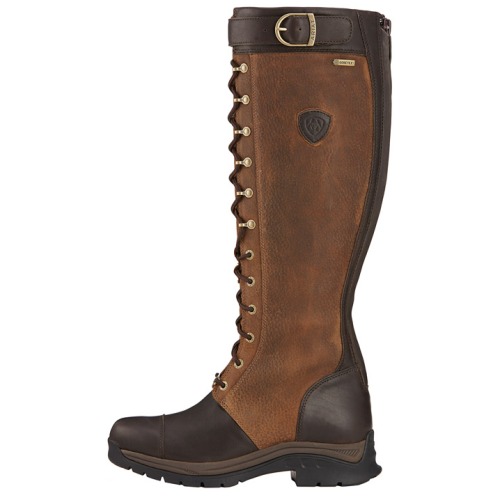 |
Aug
03
2017
Ariat Berwick GTX Boots Review
The Ariat Berwick GTX boots are a tall, waterproof, premium country boot featuring a Gore-Tex lining, front lace system and full rear zip. By using a synthetic waterproof fabric permeable to air and water vapour, it makes the boot perfect for outdoor wear as well as being a very stylish boot. With added comfort it means that the boot can be worn for long periods of time and during temperamental weather. The 200g Thinsulate Insulation keeps feet extremely warm but breathable, and a shock absorbing EVA midsole helps prevent foot fatigue and promotes good posture. The use of Ariat's ATS Pro technology which is usually saved for only their premium riding boots shows how much Ariat mean business in the country boot market. This new sole system has been developed specifically for a country rather than equestrian user which means it offers much more comfort for all day in the field/walking/working.
Another feature that makes this boot more appealing is the front lace system which is easily adjustable and once the perfect fit is found then all you need to use is the rear zip to get the boot on and off hassle-free. They've also got a new 'easy off Heal Kick' system which is a huge help when they're caked in mud! The top of the lace system is covered by a buckle fastener which gives them a really secure feel when they're all done up.
Now to get onto the looks… as you can see from the picture, they really are drop dead gorgeous. It's always the boot customers go to first in our shop and they always get plenty of compliments. The premium grade leather could be one of the reasons as it has a luxurious grained finish going up the leg and a smoother finish on the foot. The laces also make them stand out from the crowd as they are fed through beautiful bronzed eyelets. The branding is subtle and classy with a leather Ariat badge on the side of the calf, engraved buckle and engraved Ariat detail at the bottom of the laces. They also have a small, bronzed Gore-Tex engraved logo nearer the top of the leg. We think they are the best looking country boot, not just from Ariat but on the whole market, which is saying something with the huge range of options now out there. Be prepared to turn heads!
Something to consider when buying the Berwick boot is that the sizing is fairly generous so we recommend going half a size down on your usual shoe size. Also, the foot shape on these is slightly more shaped than other Ariat country-boots such as the Windermere and Grasmere, they are still generous, but go a little narrower towards the toe. We recommend going for a size 5.5 if you are normally a size 6 (we can always change them for you if they are the wrong size). You get a set of stretch laces and a set of standard laces as well as an Ariat long boot hom and boot trees. These additional features are great in helping prolong the life of your boots by helping you get them on and retaining their shape. Another thing worth considering is the height of these boots. When they are brand new, they measure approx. 47cm from the bottom of the heel to the top at the back. They will drop a little once they've been worn in but they are still a tall boot so you will need to consider this. We can supply Ariat Heel Lift inserts which lift the foot and leg up and out by around 1cm which can make a difference, especially before they get worn in.
It would definitely be worth trying the shoe on so that can you judge which size is best for you especially when they are going to be worn for long periods of time. The use of Thinsulate insulation is great for harsh winters but they can get hot on a few days of the year when we head into the warmer months so that might be something you want to consider although the Gore-Tex lining is extremely breathable which will help.
This boot really takes style and performance to another level. Ariat have really excelled in this design and it is the perfect boot if you are after a premium country product. Look great, feel wonderful and perform even better with boots from Ariat. At £359.99, they are priced in the same bracket as other premium country boots on the market and have notably better sole technology than an extremely popular boot in this category (not mentioning any names!).