DETAILS
The Pampeano Colegio Polo Belt embodies class, with rich navy blue and gold stitching.
The belt is patterned with traditional pampa diamonds, representing the ancient Andes mountains which have inspired the natives of Argentina for generations. The beauty of this authentic symbol is accented by the alternating colours of the pattern, trimmed by white threads in between. This pattern is hand-stitched in the heart of Argentina – La Pampa – by local artisans. Every part of this polo belt is hand-crafted, including the buttery South American leather which gets better with age, down to the expert vegetable-tanning process.
At 3.5cm wide, this belt fits perfectly with any normal trouser, as well as being a luxury accessory to dresses and cardigans. The classic Havana brown of the leather provides subtlety, while the vibrant colours give the belt the unique touch that your outfits deserve.
Polo belts are a South American tradition, and this belt will bring a slice of authentic South American style to your wardrobe. Made in Argentina in the traditional fashion by local artisans, a polo belt from Pampeano is also a perfect gift for a loved one; and in a range of sizes, anyone can model them effectively.
SIZING & FIT
Please see the size guide for the Pampeano Colegio Polo Belt below. We're always happy to exchange/refund all orders so you have peace of mind if they don't fit.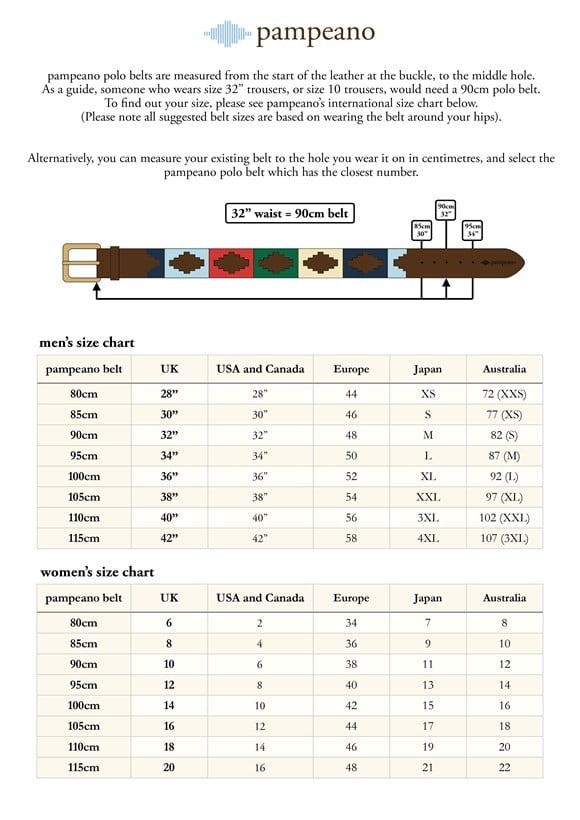 FEATURES
Pampeano's iconic pampa diamond motif
Handmade in La Pampa, Argentina
Premium grade Argentine cow leather
Unisex design
Additional information
| | |
| --- | --- |
| Size | 100cm, 105cm, 110cm, 80cm, 85cm, 90cm, 95cm |